英語科教諭、美術部顧問 柴山哲也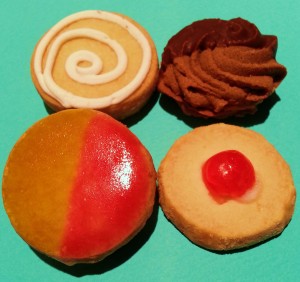 S'ils n'ont plus de pain, qu'ils mangent de la brioche ! (Marie-Antoinette?)
"Time for a snack!" That sounds yummy. Unlike regular meals, sweets are not necessary from a nutritional point of view. In fact, it may be that some of you went cold turkey on them. I think it's a right choice for your health, but are you sure you can live without sweets? Can you forget the pleasure of indulging in them when you feel blah? I swear to God, I cannot. Sweets can be a panacea for reducing suffering in life.
I was born in Nishi-ku Nagoya and lived there until the age of six. The district is dotted with confectionery factories. I remember my granny would often take me to a small wafers factory within a few minute walk from home and get me some cheap sweets. I'm not quite sure what it was that I was given as a snack for the first time, but as far as I can recollect, it was Nagoyan. It's a luscious steamed bun with smooth yellow bean jam in it. Major yummy! My other favorite sweets I grew up eating are Shiruko Sand or sweet crackers with red bean syrup in them, and White Lolita or soft cookies wrapped up by tasty white cream. These long-selling products have been manufactured since my childhood, which I can seriously recommend to everyone. They are available in most supermarkets in the Tokai district.
My mom sometimes made me some sweets like cookies or donuts. Speaking of which, I still cannot forget those special donuts served by a madam who caught us ding-dong ditching.
It was back when we were the third graders at elementary school. She invited the little devils into her place and instead of scolding us, she made delicious donuts for us right in front of our eyes. Freshly baked, the crispy donuts, drizzled with snow white sugar, looked and tasted awesome. After eating them, we did our homework in the kitchen. Fantasma.
Wind the clocks forward. I sometimes opt for imported snack products with attractive packaging but it turns out that they are nothing compared to those made in Japan. That's why I'm glad I was born in and live in this country. Nowhere else but here can I enjoy such adorable and delectable sweets as Kinoko No Yama or Takenoko No Sato, which are tiny mushroom or bamboo shoot shaped biscuits with chocolate. Not to mention Japanese traditional fresh or dried confectionery served at a tea ceremony.
Sweets are not just for kids. They are necessary for adults who know life is no sweet thing, nor is it full of bitterness. It's super fun to have a snack while reminiscing about old memories about it or fantasizing about what I've not encountered yet. I'm also curious what your favorite snack is. Viva la DOLCE vita!